Hardie Plank Installation Services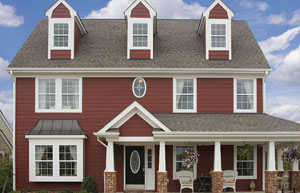 Tired of painting your house? Why not consider Hardie plank siding for a change? We at WCV Windows INC. have offered one of the best professional installation services for more than 25 years in Washington.
WCV Windows INC. aims for perfection by using highest grade materials and the latest technology to reach maximum performance. Try our Hardie plank siding and installation service.
Hardie Plank siding is no simple task. It requires some preparatory steps before the Hardie siding can be installed. The whole process involves:
Installation of a starter strip

Installation of the first course of Hardie Plank siding (at the lowest point of the house)

Securing the Hardie Plank siding alignment at corners

Blind nailing, face nailing, staggering the butt joints, and joint flashing

Joint placement and treatment of Hardie siding

Continuing the installation of Hardie siding (including the gable walls)
Should you experience issues with the product, please feel free to contact our team so we can get the Hardie siding problem resolved. You may call us at 1-800-492-6155 local 800-492-6155 or fill out the service form which can be found at the link below, and send it in.
https://westcoastvinyl.com/request-service
Please expect a response about your request within 1-2 business days.


Hardie Siding Offers Strength, Durability and Longevity



Hardie Plank siding or Hardie Siding is made up of cellulose fibers, along with cement-like materials. This means it is partly wood and partly cement. What makes Hardie plank siding exceptional?
Hardie siding is thick

Insect resistant - Hardie plank siding has less cellulose fiber (10% only)

Fire resistant - Hardie siding is 90% sand and cement

A green building material because Hardie siding longevity

Securely fixed to the outer panel
Hardie Plank Siding Offers Low Maintenance and Long-Lasting Beauty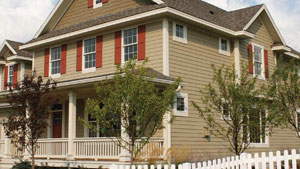 Hardie Plank siding lasts longer especially if painted and properly maintained. Because it looks like wood, Hardie siding gives you the convenience of instant finish if you prefer a wood design.
Hardie siding can easily be painted but don't go with just any paint. It is recommended for Hardie Plank siding the use of 100% acrylic topcoats. Hardie siding can hold paint longer than traditional wood or composite sidings.
Care and maintenance for Hardie Plank siding may also include:
Washing as fungus, mildew, dust may accumulate over time

Re-caulking with a matching color or the pain table type

Moisture management, clearance, and gutters
Hardi Siding Painting Before
Hardi Siding Painting After